When it comes to booking a hotel, is there ever a tried-and-true "best" way to do so? As we found out last week… not really. There are just so many apps out there and hotel options also start popping up on your screen as soon as you book your flight, asking if you want to bundle your flights with a promoted and advertised hotel somewhere close to your destination. For some people, this definitely might be the easiest course of action to take. But what's the best?
When it comes to actually taking the time to research and find an awesome hotel deal, having the convenience of booking, managing reservations, and comparing rates through a specific app has its perks. Especially if you're someone who prefers specific amenities or focuses on the feel of a hotel, whether it be more fitness-oriented, eclectic aesthetic, or trendy and healthy. Not only that but if flexibility and occasional last-minute hotel rooms are usually a part of your plans, nailing down the best way to get a hotel is vital.
We've already compared eight different apps to see the best way to get a great hotel in Miami. Now we're doing the same for Austin, just in time for SXSW. Consider using one of these apps to score yourself a deal close to the conglomeration of parallel film, interactive media, music performances, and conferences. We punched in the dates to stay at a hotel from March 10-19th close to the Austin Convention Center, so you can spend more time focusing on enjoying the event and less on stressing about your hotel stay.
HOTEL TONIGHT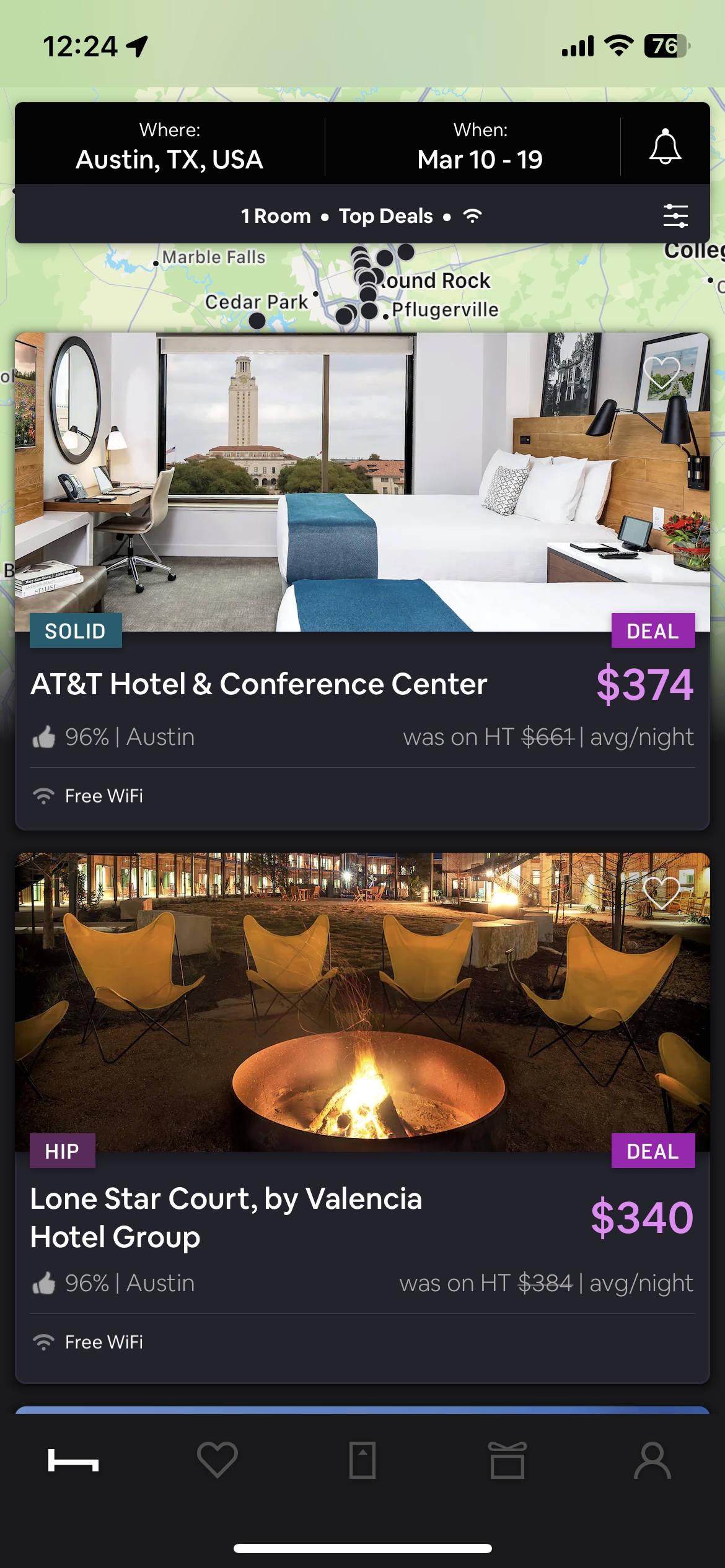 Like the name implies, this app is best used if you're in a last-minute pinch and need a hotel…um tonight. With hotel, motel, and resort options spanning the United States, Europe, Latin America, and Asia, users get a plethora of booking options where hotels are trying to fill unsold rooms. It also models as a regular hotel booking app, allowing users to book hotels up to 100 days in advance.
Once you join the HT Perks program, you'll get access to even more discounts.
PROS:
It has one of the best deal features of any hotel booking app. The Daily Drop allows you to find a personalized deal in your specified city with a special price valid for only 15 minutes. You can use this for a last-minute, same-day hotel booking or even for a booking for a specific set of dates that other hotel booking apps don't offer. The interface is also very sleek and appealing to use while showing you the prices of hotels and what they used to be listed for and the deal price offered now. It really puts in perspective how much you're saving.
CONS:
With a name like "Hotel Tonight," you really make the most of this app if you book a hotel for the same day. Booking a hotel in advance doesn't really relay as many savings as you'd hope for.
BEST OPTION:
Daily Drop Deal: South Congress Hotel – $263 per night, originally $445.
For SXSW dates, AT&T Hotel & Conference Center – $374 per night, originally $661.
HOTWIRE
Hotwire is cool because it negotiates deals on unsold rooms, giving you pretty hefty deals and discounts on hotel rooms. With its Hot Rate hotels offerings, you can get an insane deal on a hotel room by letting the app choose the hotel for you. Sounds weird, right? Well, it's a calculated risk. You're shown a price, hotel rating, general location, and the names of three hotels. It's kind of like a fun chance game because you book a room and then see which hotel it'll be at from that list.
PROS:
I was able to directly type in Austin Convention Center as my location, as well as view my 16 choices listed in order of proximity to the venue.
CONS:
Because it's a hot area right in downtown during one of the city's busiest weeks, hotels are pricey. The best way to use this app is to use the Hot Rate Hotel Deal, but you don't actually know what hotel you're staying at, so it's a risk for you to take.
BEST OPTION:
One of the several Hot Rate Hotel Deals. You can stay in a four-star boutique hotel with free Wi-Fi for $377 per night instead of its standard $629 per night. That's a huge 40% discount. If you feel like splurging a little more, you can opt for the 4.5-star hotel deal, listed for $464 per night instead of the usual $776 per night. That's another huge 40% discount to ball out during the biggest business week in the city. Call it a tax write-off.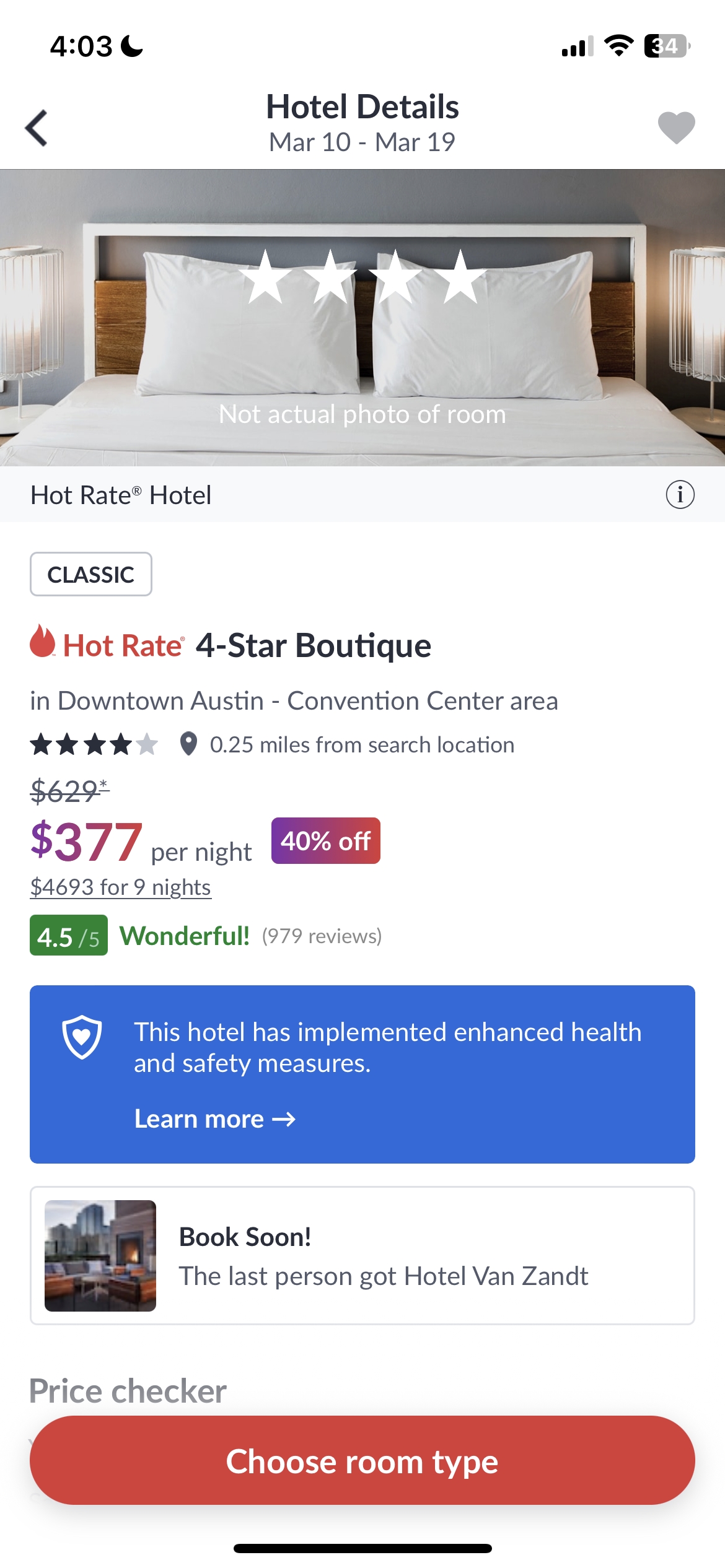 HILTON HONORS
This was the only hotel-branded app we decided to download and look into because Hilton does actually have some serious perks. If you're a Hilton hotel snob, then booking through this app could give you some serious leverage. When you get your free member signup, you'll get access to guaranteed Hilton Honors discounted rates, account points to use for free nights, no resort fees on reward stays, digital check-ins and check-outs, access to free Wi-Fi, and premium bonuses the more you stay at Hilton-owned bookings.
PROS:
So probably the best thing about this app is that it allows you to choose your room. When booking a hotel room, you can see a map layout of the hotel and select the room you want, including specific floors and views. While the name implies booking Hilton hotels, you can also book hotels brands Curio, DoubleTree, Embassy Suites, Hampton, Home2 Suites, Homewood Suites, Tapestry, and Tru, giving you a variety of options that are found throughout the world.
You can also type in an exact location. For this, I typed in "Austin Convention Center" so I could be as close as possible to where SXSW is taking place.
CONS:
If you're not a Hilton Honors member, then this app is gonna be worthless. The sign-up makes you input all of your information, which is annoying but the points you earn as you book are worth it.
BEST OPTION:
When I filtered to show only available hotels, I had it narrowed down to three options. Hilton Garden Inn Austin Downtown/Convention Center seemed like the best option with it being only two blocks from the Austin Convention Center and 6th street. You're paying for location though, so it comes out to $540 per night, which is still cheaper when using your membership discount.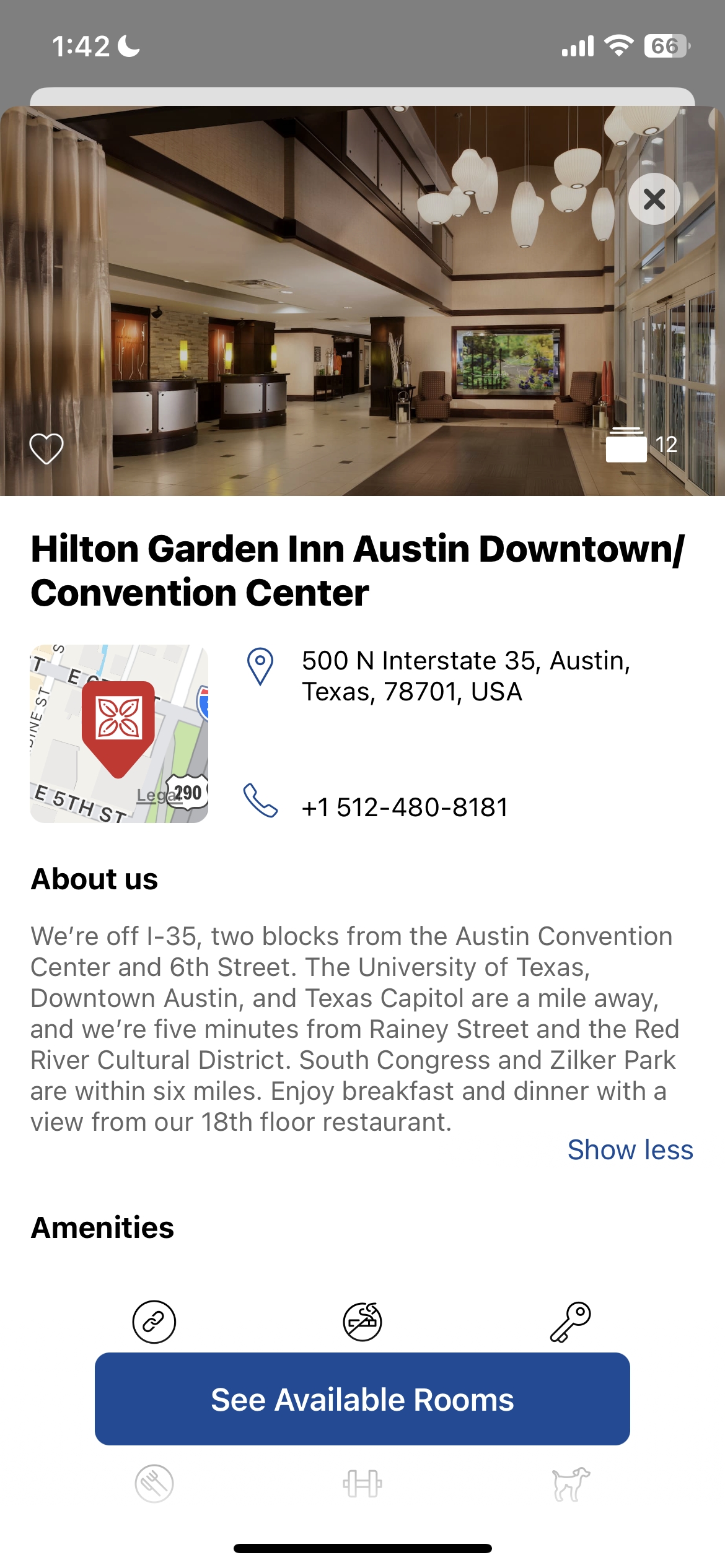 BOOKING.COM
With the word "booking" literally in its name, the app allows you to look at millions of different properties spanning hotels, rental properties, vacation rentals, and more. The app also shows information in over 40 languages, which can be helpful when trying to show a specific hotel's address to a taxi driver in another country.
You can sign up for free for the "Genius" loyalty program, leading to additional discounts on drinks, airport transportation, and more.
PROS:
Can instantly create an account linking your Google, Facebook, or Apple profile and you're automatically starting at a 10% discount for all bookings on the app. I was able to sort my options with proximity to the Austin Convention Center, putting me right downtown and where SXSW was taking place. It also shows you the total price you'll pay instead of per night, which to me is actually more useful.
CONS:
You can't see your room choices until you press another button when selecting a hotel option, so it requires a little more navigation for comparison.
BEST OPTION:
Hotel Van Zandt – $420 per night for a total of $3,782 plus taxes and fees for nine nights. The hotel is located less than 700 feet from the Austin Convention Center, putting you in the middle of all of the city and event action.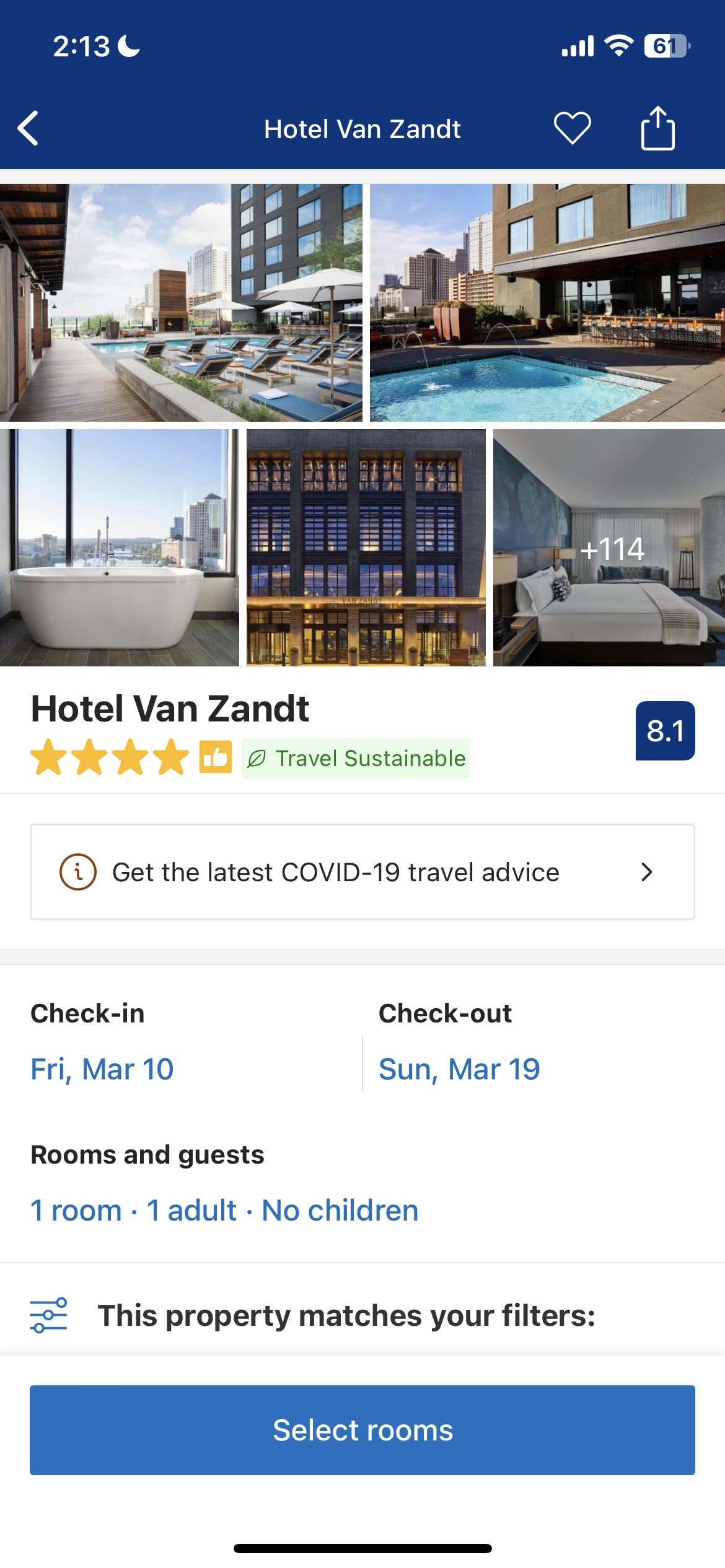 @HOTEL
As the first hotel booking platform for Instagram, users get exceptional travel discount rates through the app's largest travel network on social media. Users typically save between 30%-50% off hotel rates that aren't made publicly available on other booking sites. Additionally, @hotel has over 500,000 affiliated worldwide hotels in its network.
PROS:
Scrolling through beautiful travel destinations on Instagram and you're curious to see how much it would be to book something? You don't even have to leave the app. Simply go to @hotel on Instagram and you can plug in specific cities, regions, or names of a hotel or luxury stay either by messaging the account directly or using the link in their bio. From there, you'll get a private booking rate.
It's very easy to use, sleek, boasts high functionality, and gives you boatloads of information that other booking apps don't lay out for you, including a list of high-priority nearby destinations. Sorting your options by the best deal will get you the ultimate savings.
CONS:
If you don't use Instagram, then this may not be your ideal choice. @hotel does have a sister app called Tripscout you can download, but it doesn't seem to give you all the hefty discounts that it offers through its Instagram page.
BEST OPTION:
Hotel Van Zandt – $400.63 per night, which is cheaper than Booking.com's deal on the same hotel. However, if you want free Wi-Fi, South Congress Hotel would be the better option, boasting higher reviews and amenities for $639.88 per night thanks to a 17% in-app discount.
AIRBNB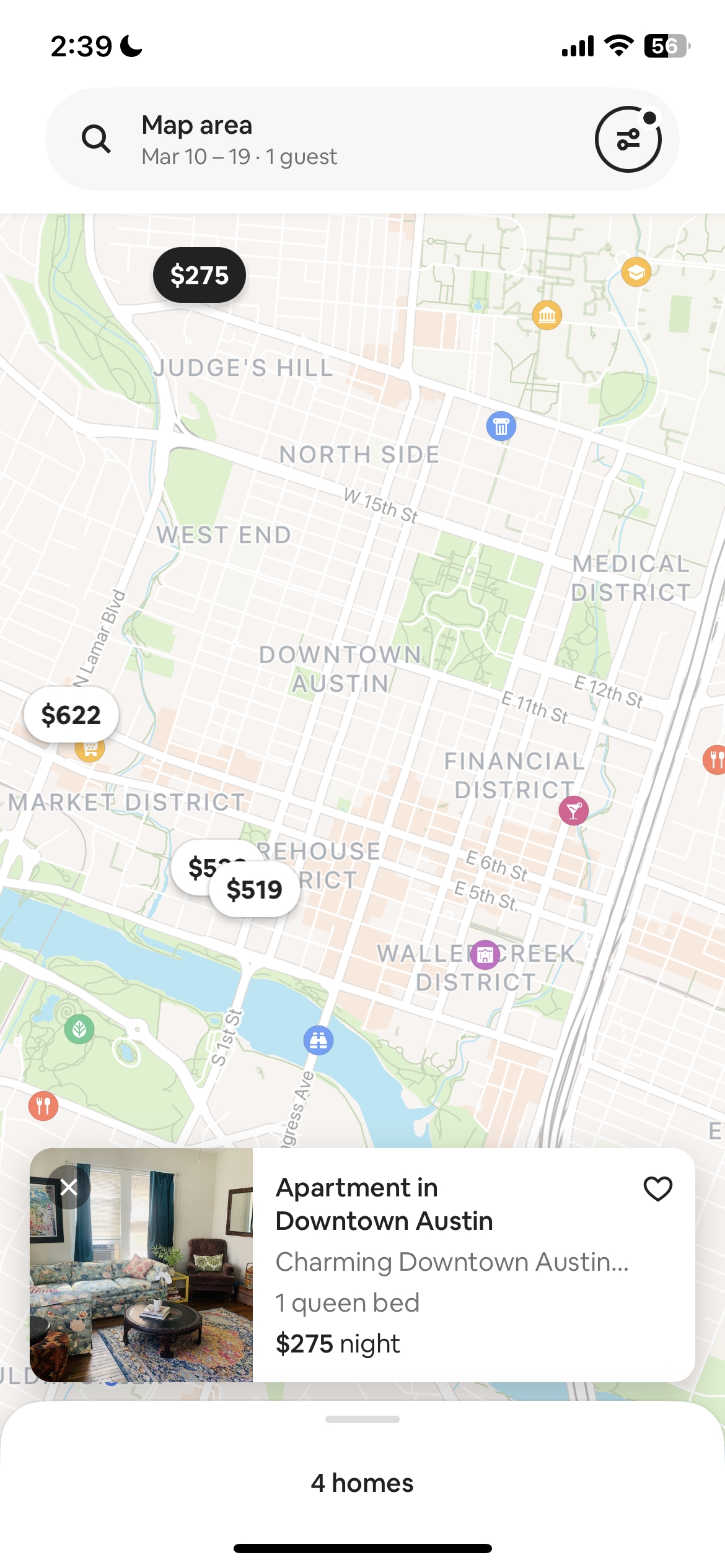 Unlike most hotel booking apps that cater to hotels specifically, AirBnB – meaning "Air Bed and Breakfast" – offers people an easy way to book apartments, homes, guest houses, and more. The app allows people to rent out their homes in a relatively stress-free way and as a result, opens up hundreds – if not thousands – of "homier" rentals to tourists looking to check out an area.
PROS:
Can specifically search in an easy-to-navigate map view, so while I couldn't directly type in "Austin Convention Center," I could hover over the downtown location on the map and get the closest options for available dates. With booking an AirBnB, you often get a kitchen or kitchenette, and multiple rooms to roam around in, unlike booking a standard hotel room.
CONS:
Because we're looking for a stay for nine nights over SXSW week, there aren't too many options that are within walking distance to the Austin Convention Center. With this, it's best to always plan pretty far in advance when booking on AirBnB to get exactly what you're looking for. AirBnB is also notorious for tacking on hidden cleaning and service fees which you don't see until you get to your final reservation screen.
BEST OPTION:
Charming Downtown Austin One Bedroom – $275 per night plus fees.
HOTELS.COM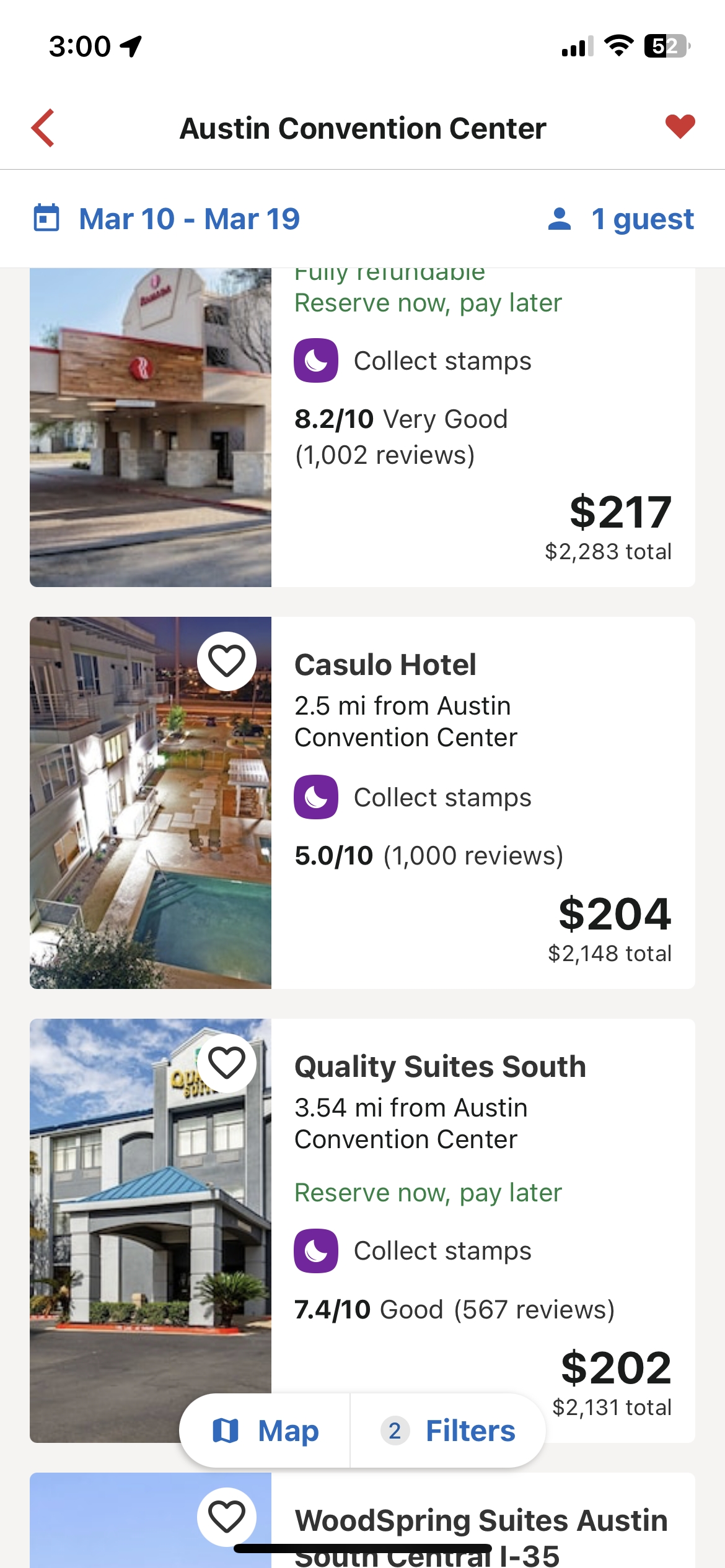 With "hotel" literally in its name, booking a hotel on this app has some serious advantages and perks. First, when you make your profile, you can access reward status through your profile, earning one free night stay at a hotel for every 10 nights you stay. Additionally, booking hotels through the app through rewards points won't incur a fee, unlike booking through the website. The app also boasts "Deals For Tonight" features for last-minute reservations in your target city and area, which is helpful for anyone who finds themselves making last-minute plans.
PROS:
It took me less than one minute to create a free membership account linked to my Google account. This is one of the best hotel booking apps where you can filter out many different amenities and features. I was able to select "free Wi-Fi" and show my options in proximity to the Austin Convention Center.
CONS:
This app doesn't seem to reap as many hotel discounts as others. I saw higher prices for hotels than I did on other apps. Because of this, I think it's best used if you consistently book through this app and get to 10-night bookings to get a free night hotel stay.
BEST OPTION:
Casulo Hotel – $224 per night for a total of $2,359 for a king-sized suite. This puts you 2.5 miles away from the Austin Convention Center while staying at a boutique hotel with an outdoor pool near South Congress Avenue.
EXPEDIA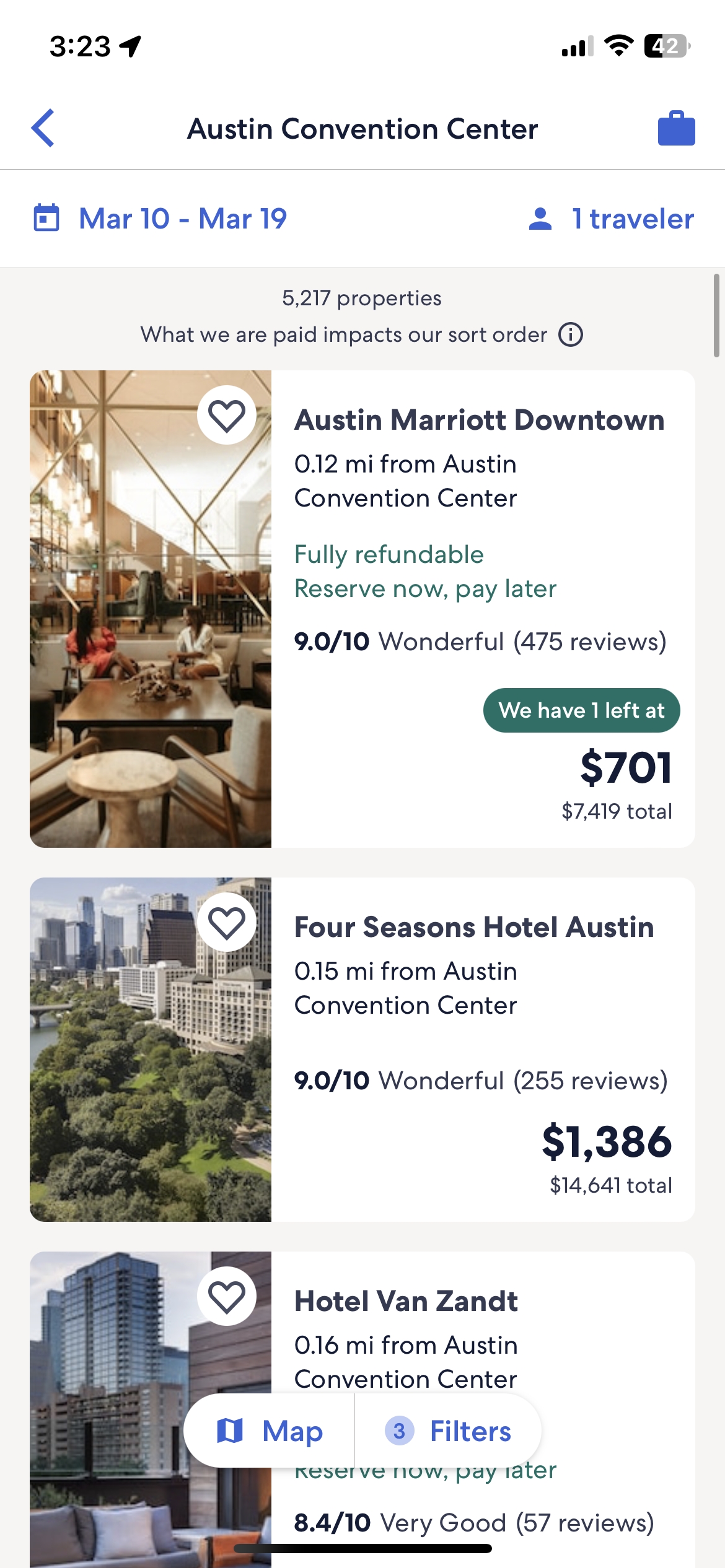 Probably one of the most well-known booking sites for all things hotels, Expedia can come in handy featuring exclusive deals of up to 40% on its app that may not show up on the website. Additionally, by booking through the app, users earn two points per dollar spent, which can be used to save money on future bookings, as well as get free breakfast, spa credits, room upgrades, and more. And while we're here to compare hotel booking apps, Expedia does allow you to also book flights, car rentals, and vacation packages from the convenience of your phone.
PROS:
Looks nearly identical to Hotels.com when it comes to filtering your price range and amenities. I love knowing that by booking on the app, I'm earning double the points on all hotel bookings to earn great rewards. Expedia also gives you hotel and full home or condo rentals as well, so you can see all of your booking options.
CONS:
Interface is extremely dull and boring. It's just not a pretty app to be using.
BEST OPTION:
Sonder at East 5th – $442 per night for a deluxe one-bedroom suite and a full kitchen, located just half a mile from the Austin Convention Center and all the downtown happenings.