M.Midway through the set, Piri and Tommy perform a song called Silver Lining. Vocalist Sophie "Piri" McBurney wonders, "How did we get this far?" – This is not an unreasonable question. The duo released her debut single eighteen months earlier. Since then, their careers have encompassed the ubiquity of TikTok, co-signing Charlie XCX and The Pink Pantherless (the latter her pop trendy figurehead in the bedroom where Pili and Tommy fit neatly). -Label deals. Tonight's venue isn't that big, but like all other dates on the current tour it's sold out. The fact that the bar is virtually empty says something about the average age of the audience.
Theirs is a simple formula. McBurney sings in an unaffected, untutored voice, and guitarist Tommy Villiers plays jerky guitar over the backing tape. The melody is poppy, mottled, candy his stripes and the beat is derived from his UK garage and drum & bass. But it's a formula that works. In front of the stage, the crowd utters perfect words and is occasionally loud enough to drown out the duo. When the sun hits the dance floor.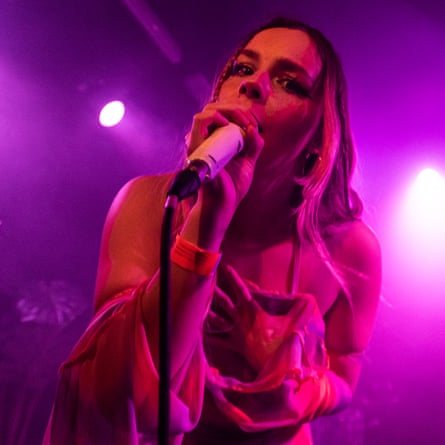 Perhaps inevitably, there will be moments that find themselves a little annoying, such as being force-fed a #jellydrink made with milk and melted Haribo, another current TikTok phenomenon. They're just singing while looking into each other's eyes. There's also his version of Crystal Waters' puffy cover of her '90s house hit, Gypsy Woman.
They are in a much safer place with their own material. The melody shifts beautifully and the chorus is infectious. Not only do the Silver Linings ruminate on their rise, they also seem to grapple with their own ability to be ephemeral phenomena. For now, though, it's charmingly precarious and naive fun.