Over the past several decades, with growing popularity, the horror genre has completely cemented itself within our cultural zeitgeist. Not only have iconic references infiltrated other live-action movies in completely different genres, TV shows, and video games, but they've made their way into animated children's movies and TV shows as well, often being thrown in as a joke for the parents to understand, while their kids just enjoy what they're watching. From Disney and Pixar, to even Saturday morning cartoons from the late '80s, the horror genre has spread its way across the spectrum of children's visual media. Horror references in animated kids' media have been something as small as a couple of music notes, all the way to extended, laugh-out-loud scenes.
Horror references don't just find their way into small lesser-known cartoons, either. Many selections on this list come from massive, big-budget animated films, that are among the best and most well-received films of all time. Oftentimes, the movies take place in completely different worlds than our own, so the inclusion of references from films in our world makes the movie or show that much sillier. From the world of Toy Story, Shrek, Loony Tunes, and even the Teenage Mutant Ninja Turtles, here are 20 horror references that popped up in animated kids movies and TV shows.
20
The Angry Birds Movie (2016) – The Grady Twins from The Shining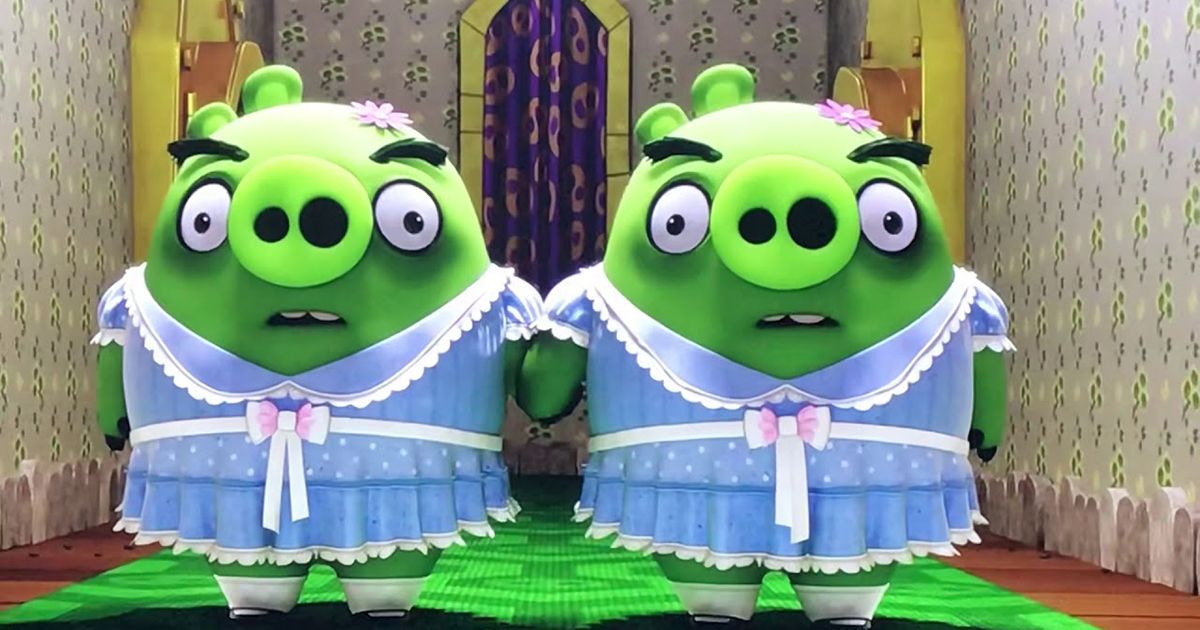 The Shining is one of the most popular and most-referenced horror films of all time (and you'll see it a few times on this list). 2016's The Angry Birds Movie references Stephen King's classic story when the Red, the movie's main character, opens the door to King Pig's castle and sees two pigs dressed like the ghosts of the Grady twins. The pigs start to chant the word "Redrum" (murder backwards), and Red slowly closes the door. "Redrum" is also a reference from The Shining, as it was the word that Danny Torrance writes on his mirror as a warning of Jack Torrance's oncoming psychopathic breakdown.
19
Monsters vs. Aliens (2009) – Paddle Ball Scene from House of Wax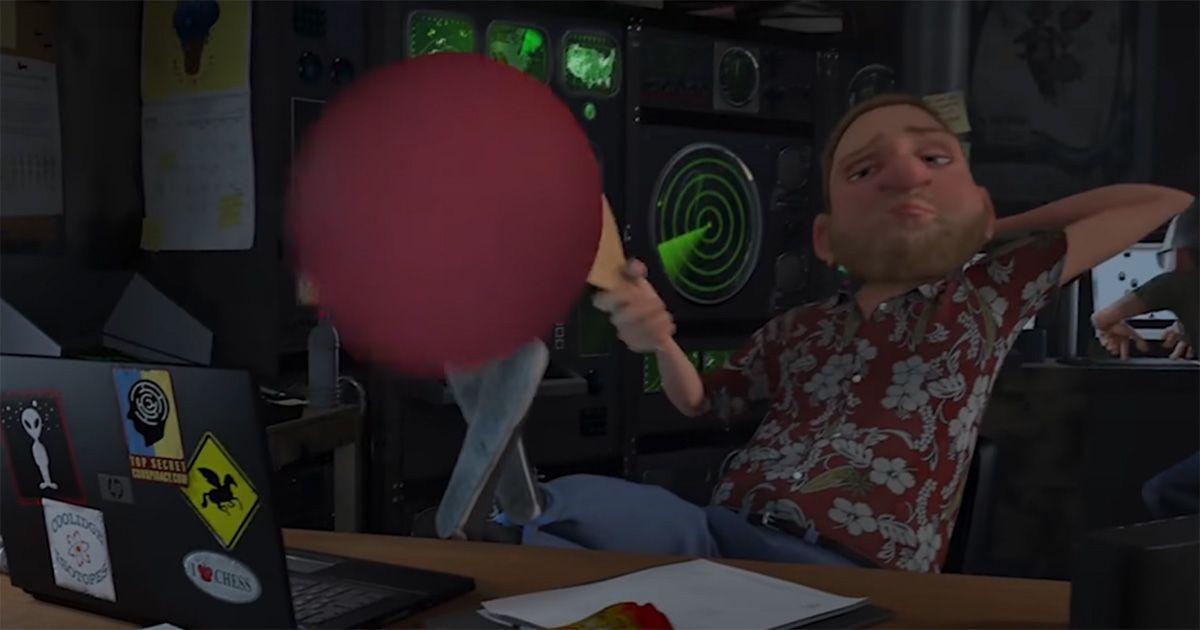 In a film called Monsters vs. Aliens, it's probably not too surprising that there were horror movie references afoot. Major characters in the movie were references to some of horror's most well-known creature characters, including The Blob, Creature from the Black Lagoon, and Mothra. However, one horror reference you may have missed came from a transitional scene that focused on a character hitting a paddle ball toward the camera. The moment references a famous scene from 1953's House of Wax, where a character spends some time hitting a paddle ball towards the camera, in an almost 3D-style effect. Though it's a short reference, it's not a surprising one, as House of Wax was one of the most well-known horror films of the 1950s, and one of the best of Vincent Price's career.
18
Tiny Tunes Adventures: How I Spent My Summer Vacation (1992) – Jason Voorhees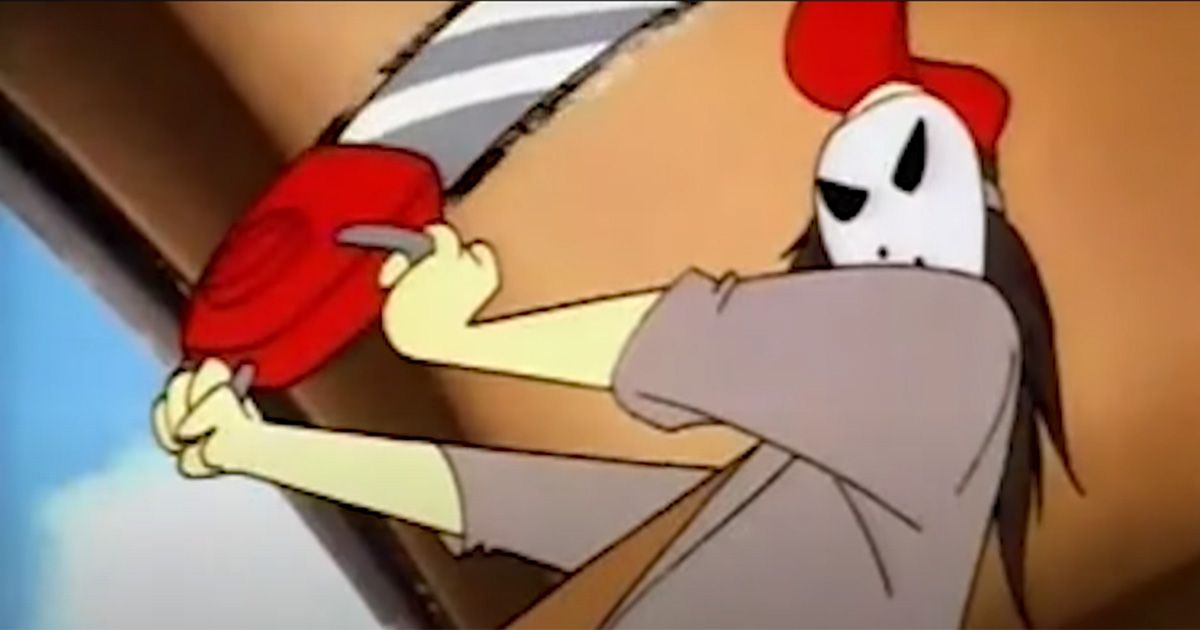 In the 1992 spin-off movie Tiny Tunes Adventures: How I Spent My Summer Vacation, Plucky Duck decides to road trip with Hamilton J. Pig's family to HappyWorldLand amusement park. On the way, the Pig family picks up a hitchhiker, who also happens to be an escaped convict. Hamilton's family ignores the shenanigans ensuing in the back seat, as the hitchhiker dons a hockey mask, pulls out a chainsaw, and does his very best Jason Voorhees impression, while Plucky evades death. This won't be the only Friday the 13th reference on this list, but it's one of the earliest in a children's cartoon.
17
Shrek 2 (2004) – Wendy Reading Jack's Pages from The Shining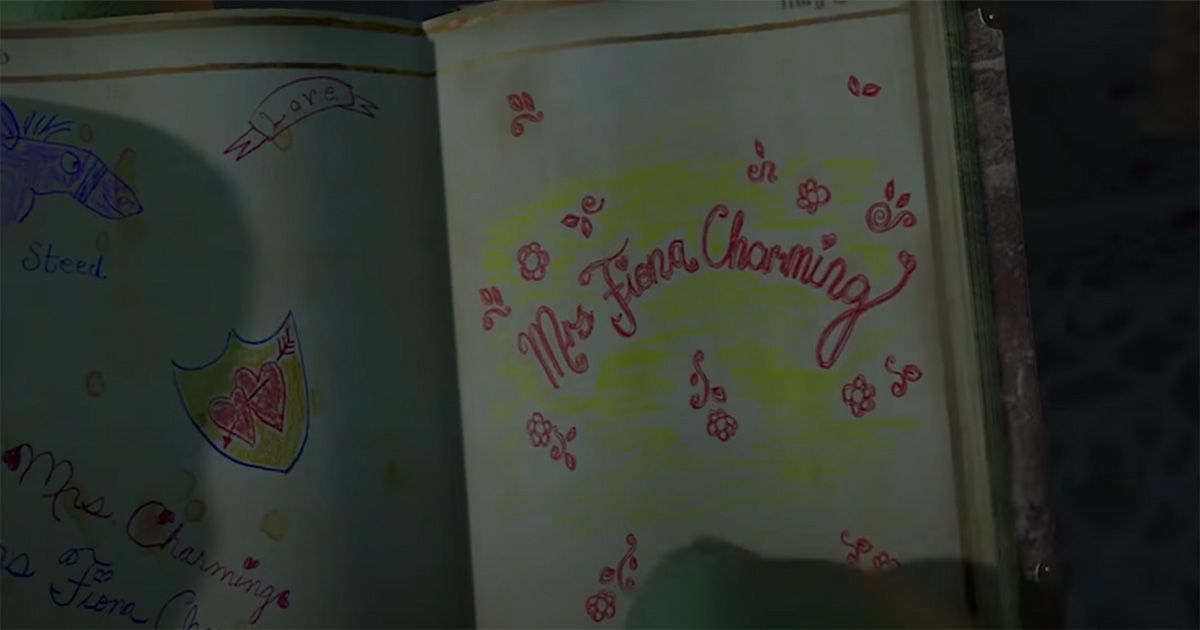 Another reference from Stanley Kubrick's 1980 classic, this time in one of the most beloved animated films of all time, Shrek 2. In this particular scene, Shrek has found an old diary of Fiona's, and starts to read it. As he starts to see Prince Charming's name over and over again, he starts to rampantly flip through the pages, as the camera focuses back-and-forth between his horrified face and the increasingly covered pages. This is a reference from when Wendy finds Jack's stage play, and upon reading it, she discovers he's only typed "All work and no play make Jack a dull boy" thousands of times.
16
Teenage Mutant Ninja Turtles – Xenomorphs from Alien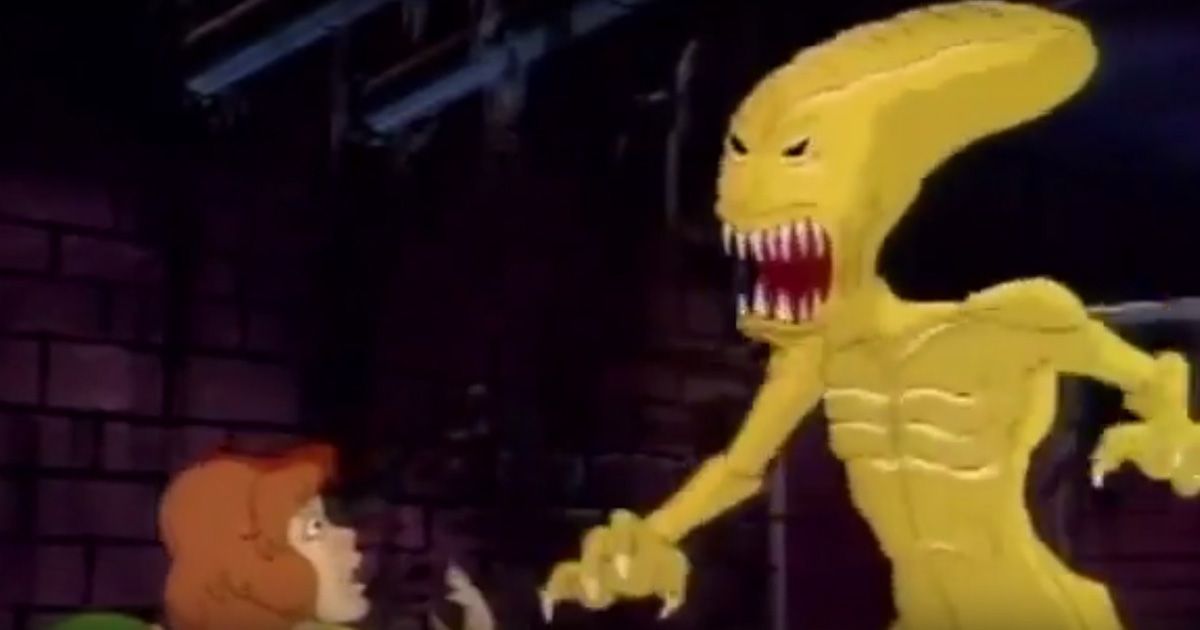 In season two, episode six of the classic Teenage Mutant Ninja Turtles cartoon, comes one of the most blatant references on this list. In "The Case of the Killer Pizzas", Bebop and Rocksteady send alien eggs from Dimension X to Shredder to place on pizzas, in hopes that the turtles will eat them. Upon heating up the pizzas, the eggs hatch into aliens that highly resemble the Xenomorphs from Ridley Scott's Alien, or what would have been extremely popular during the time of TMNT's release, James Cameron's Aliens. The eggs, growing processes of the aliens, and the elongated heads are straight up identical to H.R. Giger's designs. Cowabunga!
15
Monster Mash (2000) – Jason Voorhees, Xenomorph, and Chucky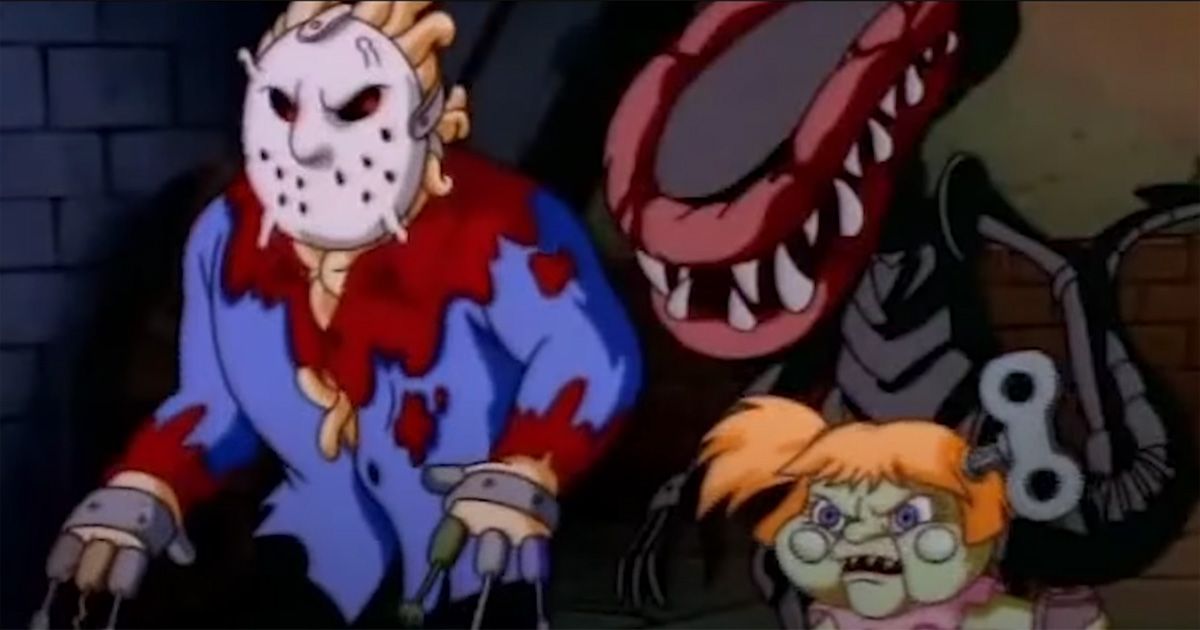 Again, it's not too surprising that a movie about the Universal Monsters has horror references in it, considering Monster Mash's main characters were Frankenstein, Wolf Man, and Dracula. However, it was surprising that later in the 2000 kids movie, several non-Universal horror movie monsters were referenced (though not directly licensed). In one scene, characters that look almost identical to Jason Voorhees from Friday the 13th, a Xenomorph from Alien, and Chucky from Child's Play all appear on the screen together.
14
Daffy Duck's Quackbusters (1988) – Universal Movie Monsters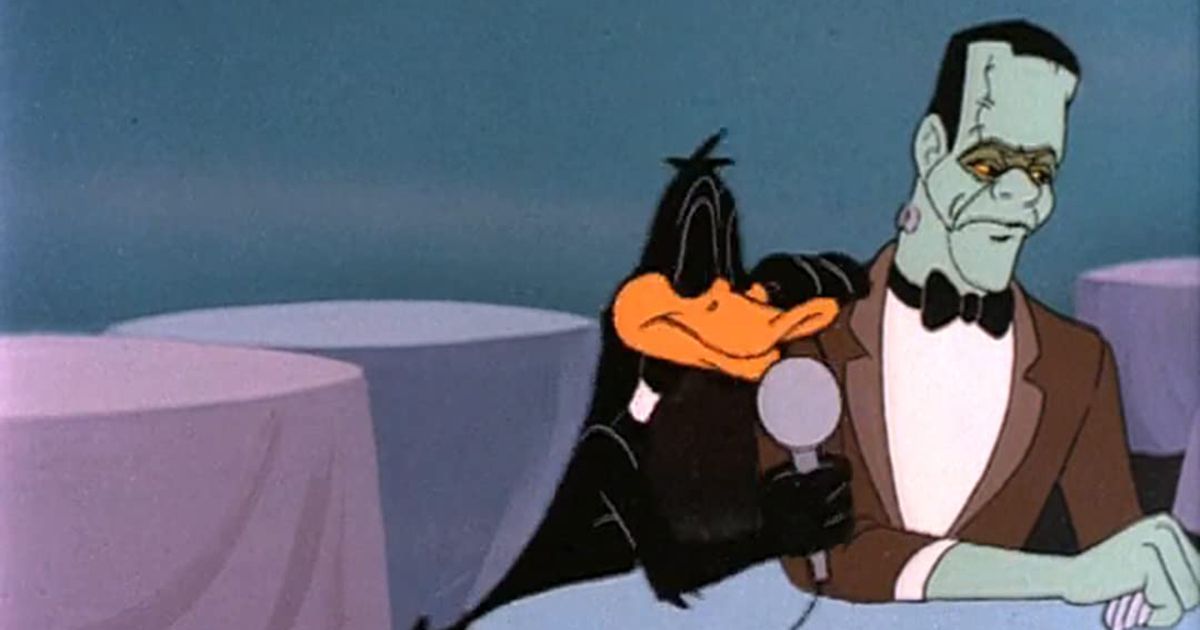 Even though Daffy Duck's Quackbusters was a reference to Ghostbusters all on its own, there were several other horror references throughout the 1988 film, including Daffy having conversations with several Universal Monsters, like Frankenstein, Bride of Frankenstein, the Mummy, and Dracula's Brides. The 78-minute special is actually chock-full with other horror references, too, including the 1959 version of The Fly and The Exorcist. Even the first short in the film references George A. Romero with its title; Night of the Living Duck.
Related: These Actors Should Play Universal Monsters in Reboots of the Films
13
Flushed Away (2006) – Coming Across Wes Craven's Red Eye DVD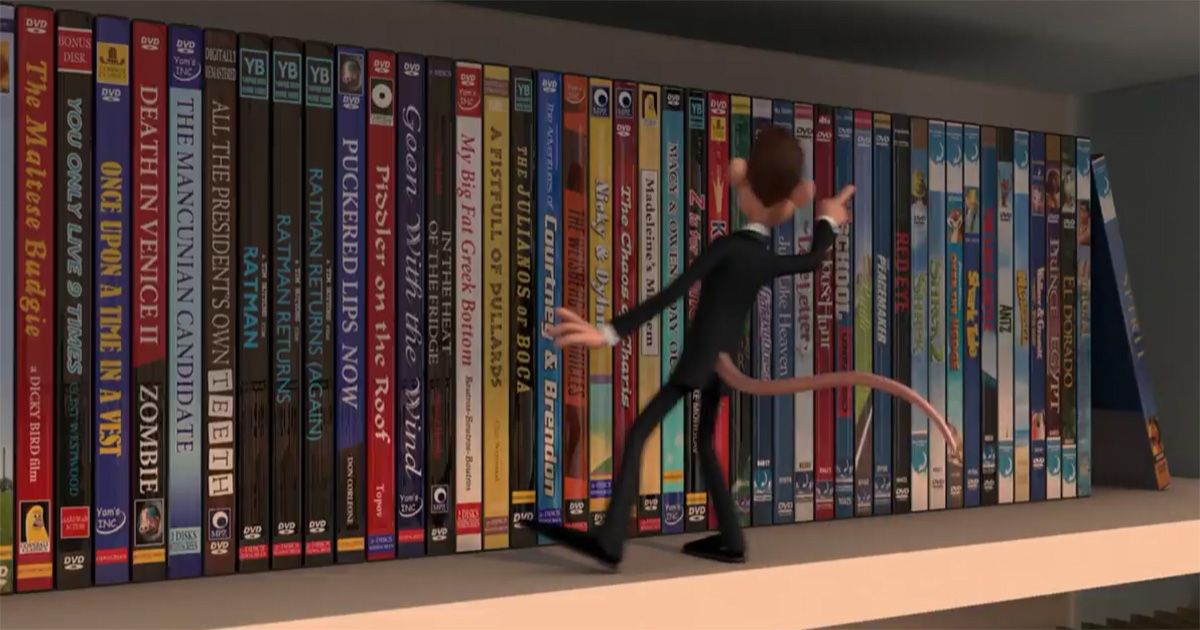 In the 2006 adventure comedy Flushed Away, Roddy St. James (Hugh Jackman) is a pet mouse, and upon selecting a movie to watch for his night in, he comes across a DVD copy of Wes Craven's 2005 horror-thriller, Red Eye, starring Cillian Murphy and Rachel McAdams. Both films were produced by Dreamworks, which is why the horror movie was referenced in the animated film. Though Red Eye was more of an airplane thriller, the director was mostly known for his horror works, like A Nightmare on Elm Street and Scream.
12
Finding Nemo (2003) – Bruce from Jaws
Outside of the obvious Great White Shark reference to Jaws in the hit Pixar film Finding Nemo, the character's name is also Bruce. Bruce was the name that Steven Spielberg and his crew gave to the giant, mechanical shark that proposed so many issues for the team during the filming of Jaws. The prop did so poorly in the salty water and rough environment, that it sank to the bottom of the ocean while filming, causing Spielberg to have to cut many intended scenes showing the full practical shark prop.
11
Samurai Jack – "Here's Johnny!" from The Shining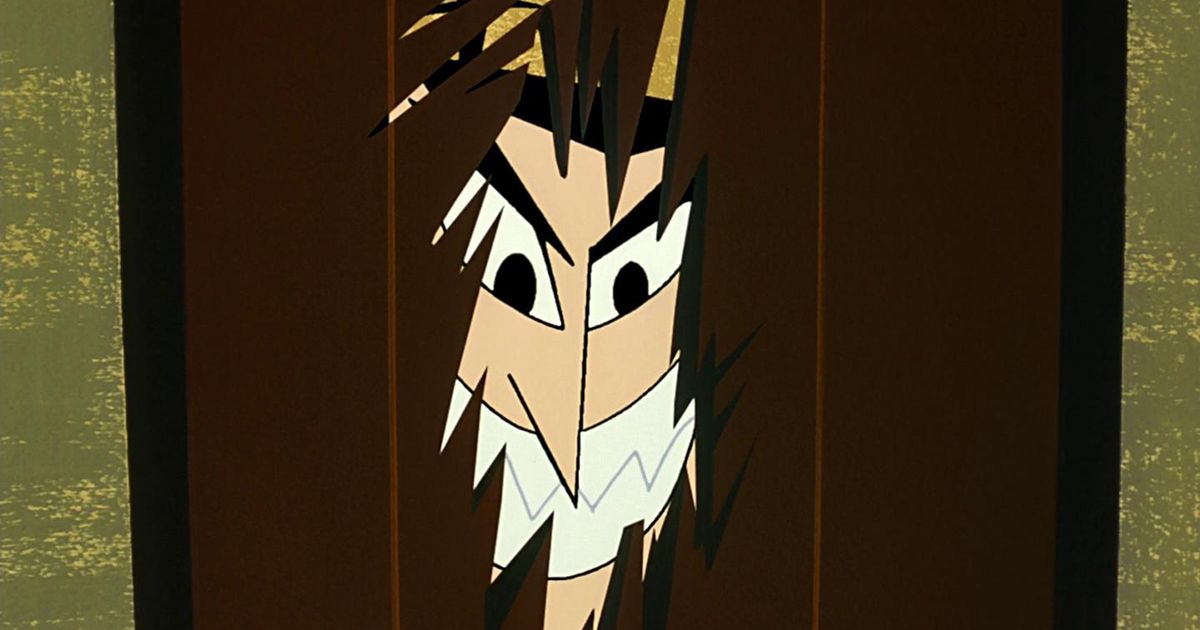 In episode XIII of Samurai Jack, titled "Aku's Fairytales", Aku tells his version of The Three Little Pigs, where Jack essentially plays the role of the Big Bad Wolf. In the scene, rather than huffing and puffing to eventually blow the house down, Jack starts hammering away at the pigs' door with his samurai sword. Once he chops a hole in the door, he stares through the hole at the terrified pigs with a sinister Jack Nicholson-esque grin on his face, then yells "Here's Jacky! in an obvious reference to one of the most iconic and memorable scenes from The Shining.
10
Teenage Mutant Ninja Turtles (2012 Series) – The Alien from John Carpenter's The Thing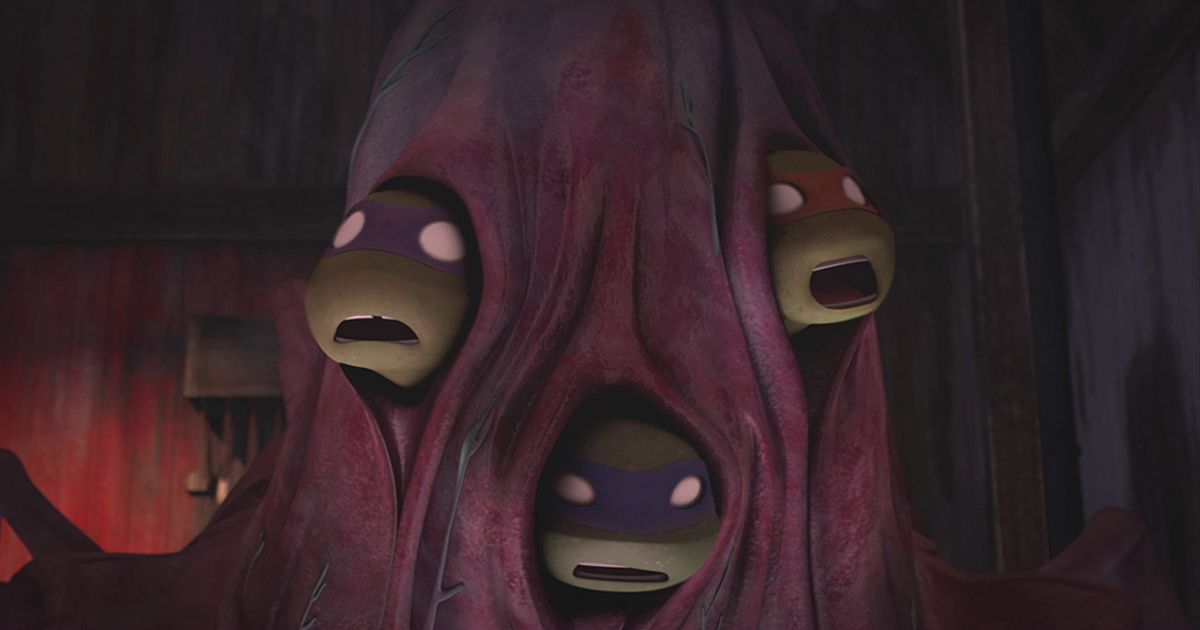 In the episode titled "Buried Secrets" from the 2012 run of Teenage Mutant Ninja Turtles, a Kraang alien ship has been buried under April's farmhouse for hundreds of years. After coming in contact with the organism within, it wants to combine its DNA with the turtles and escape. Not only does the story itself have many similarities with John Carpenter's 1982 sci-fi horror film The Thing, the alien also takes a grotesque, spider-like form, just like in the movie, and the turtles must stop it before it can spread to the general population.
Related: Teenage Mutant Ninja Turtles: Mutant Mayhem Trailer Reveals Seth Rogen's Animated Reboot
9
Tiny Tunes Adventures – Freddy Krueger from A Nightmare on Elm Street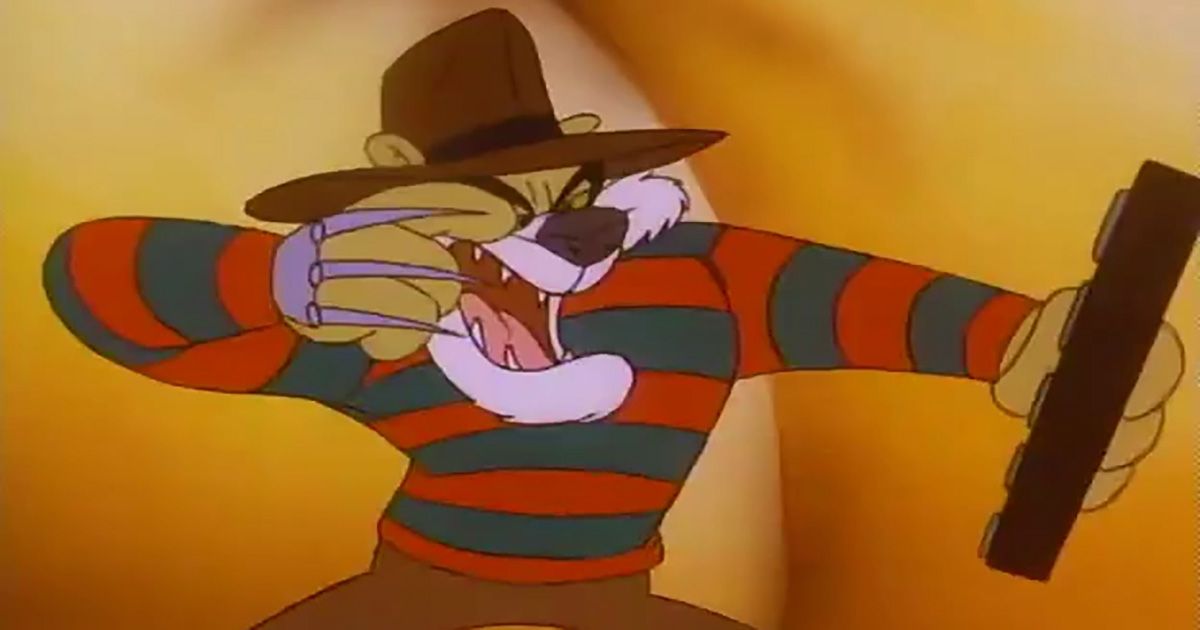 Another Tiny Tunes Adventures horror reference; this time in the form of Freddy Krueger from Wes Craven's massive 1984 hit, A Nightmare on Elm Street. The character is named Eddy Cougar, attacks Plucky Duck in his dreams while he's asleep, takes him to scary dream worlds, and dons the familiar red and green sweater, brown hat, and knife glove on his right hand. It doesn't get much more blatant of a reference than that.
8
ParaNorman (2012) – The Theme Music from John Carpenter's Halloween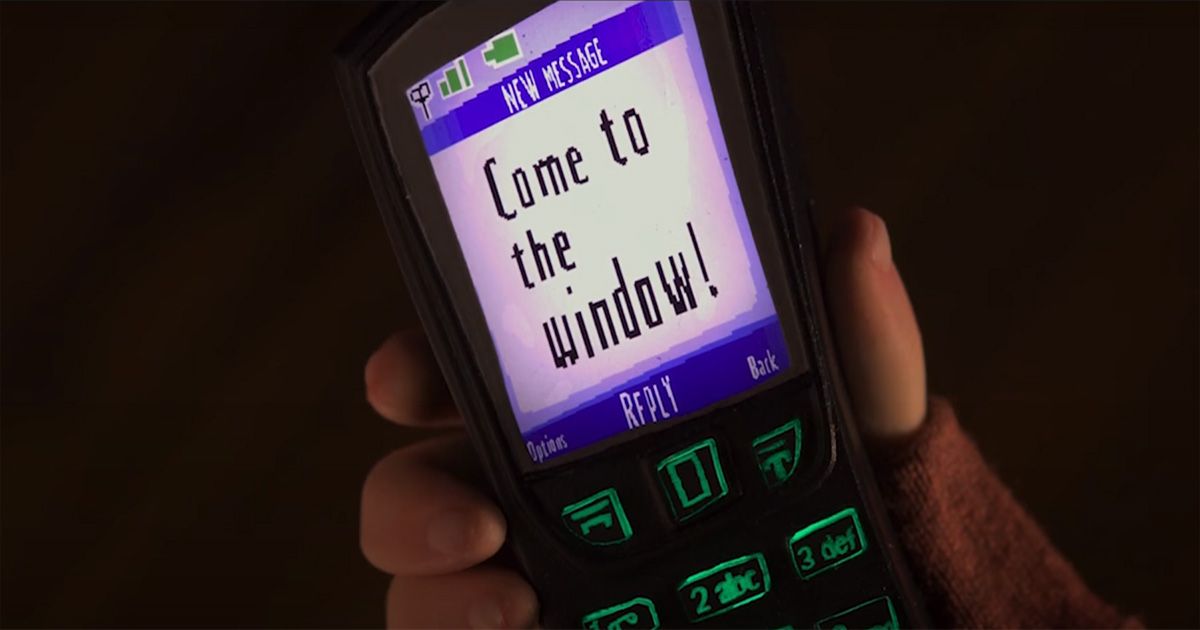 Even though ParaNorman has a horror-themed story, and makes for a great watch during the Halloween season, it was a surprise to hear John Carpenter's iconic score from his 1978 slasher film Halloween as Norman's ringtone. John Carpenter went on to write the theme music for Halloween II, Halloween III: Season of the Witch, and joined his son, Cody Carpenter and Daniel Davies in writing the themes to David Gordon Green's modern trilogy, which include Halloween (2018), Halloween Kills, and most recently, Halloween Ends. This moment in ParaNorman segues into another fantastic Halloween-related moment on this list.
7
ParaNorman (2012) – Halloween Scene and Jason Voorhees Mask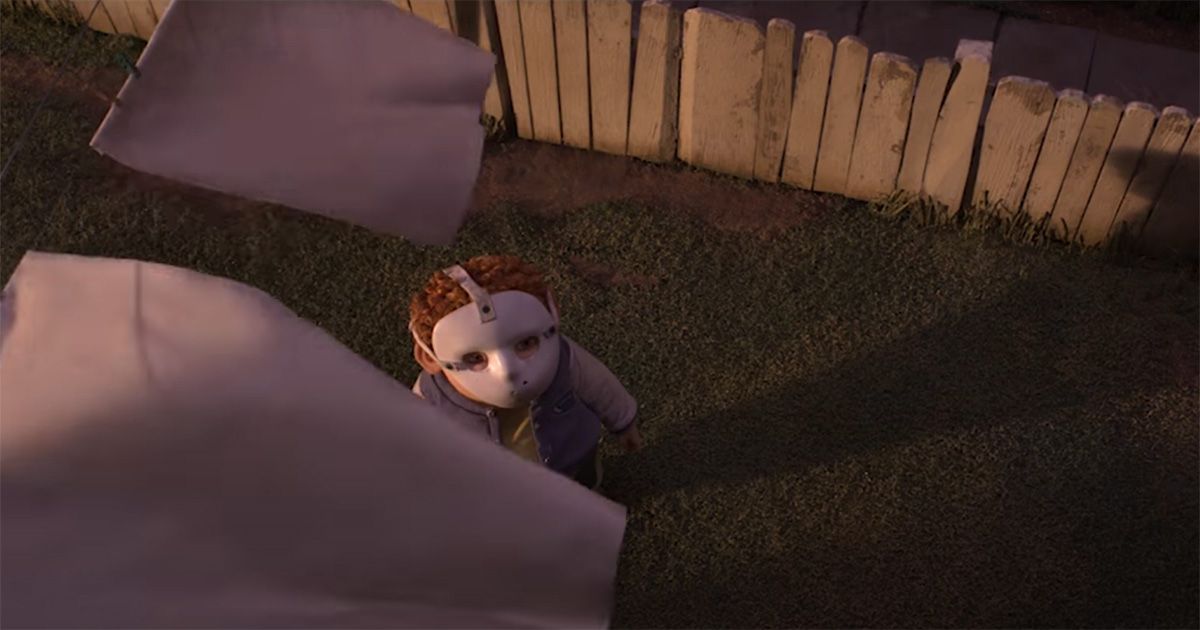 After picking up the phone, Norman looks out his window to see his best friend Neil, creepily standing between the sheets hanging on the clothesline as the blow in the wind. This is a direct scene out of John Carpenter's Halloween, where Michael Myers is standing among the sheets and looking up at Laurie Strode (Jamie Lee Curtis) through her bedroom window. To make things better, Neil is also wearing a hockey mask, the signature mask that Jason Voorhees wears starting with Friday the 13th Part III.
6
Finding Nemo (2003) – The Music from Psycho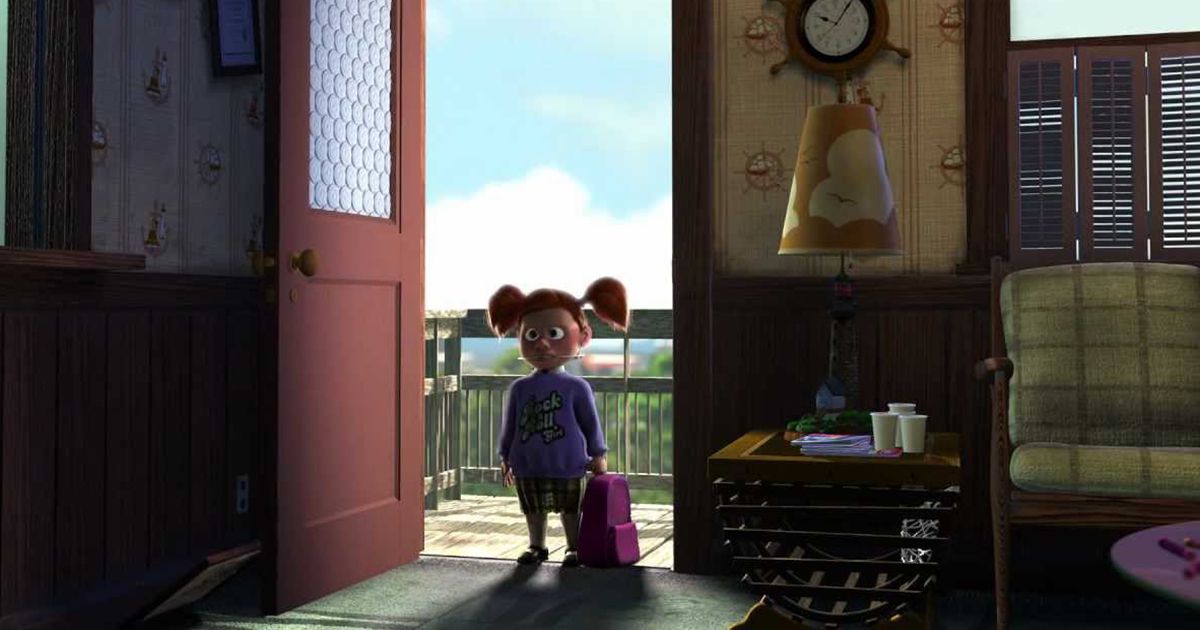 Another great moment from Finding Nemo. When Darla, the eight-year-old niece of Philip Sherman, comes to his office, it's clear she has a fondness for fish that could be called aggressive, in a word. When Darla appears, only to forcibly tap on the fish tank's glass, as well as shake the critters in their bags of solitude, the familiar theme music of Alfred Hitchcock's Psycho accompanies her. Bernard Herrmann's musical score is one of the most iconic and all of Hollywood history, and was a perfect accompaniment for the sadistic Darla.
5
Aladdin (1992) – Robin Williams' Reference to Peter Lorre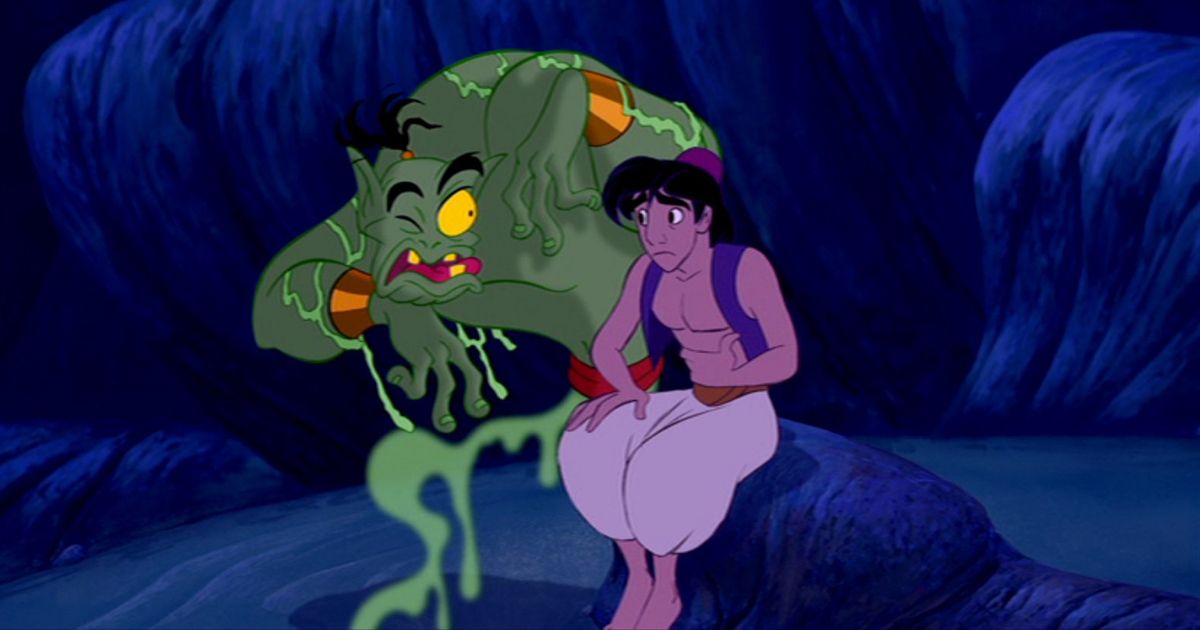 Robin Williams was a massive fan of Hungarian-American actor Peter Lorre, especially in his horror films, like Mad Love and Tales of Terror. So, it's no surprise that when doing his impressions as Genie in Aladdin, Williams turned into a zombie/Igor-like creature, and imitated the late Lorre. It was his special way of honoring an actor he looked up to, while explaining the rules to Aladdin, that he could never bring people back from the dead with a wish.
4
Toy Story (1995) – The Carpet from The Shining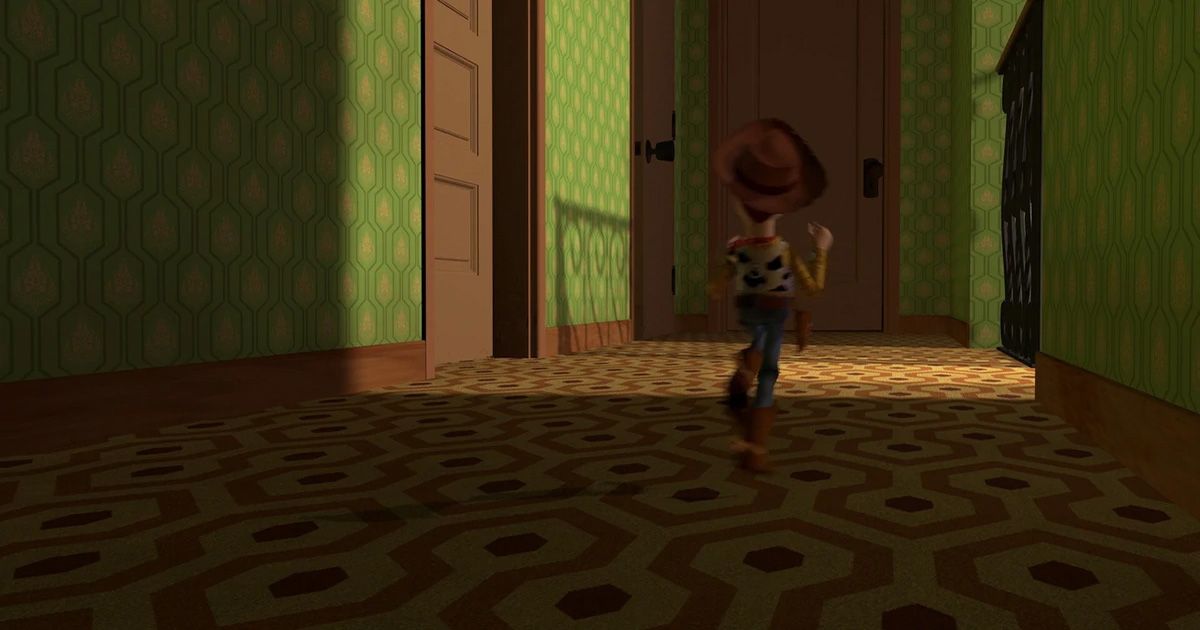 When the toys in Toy Story end up trapped at Sid the sadistic neighbor's house, they're all on edge, as the psychopathic child loves to torture and break helpless toys almost clockwork. To make things even creepier, while Buzz and Woody sneak around Sid's house in search of a way to escape, you may notice that the pattern on the carpet is the exact pattern from The Overlook Hotel in Stanley Kubrick's 1980 film, The Shining. This is a great example of a subtle reference that doesn't go out of its way to be in the viewers' faces.
3
Finding Nemo (2003) – "Here's Johnny!" from The Shining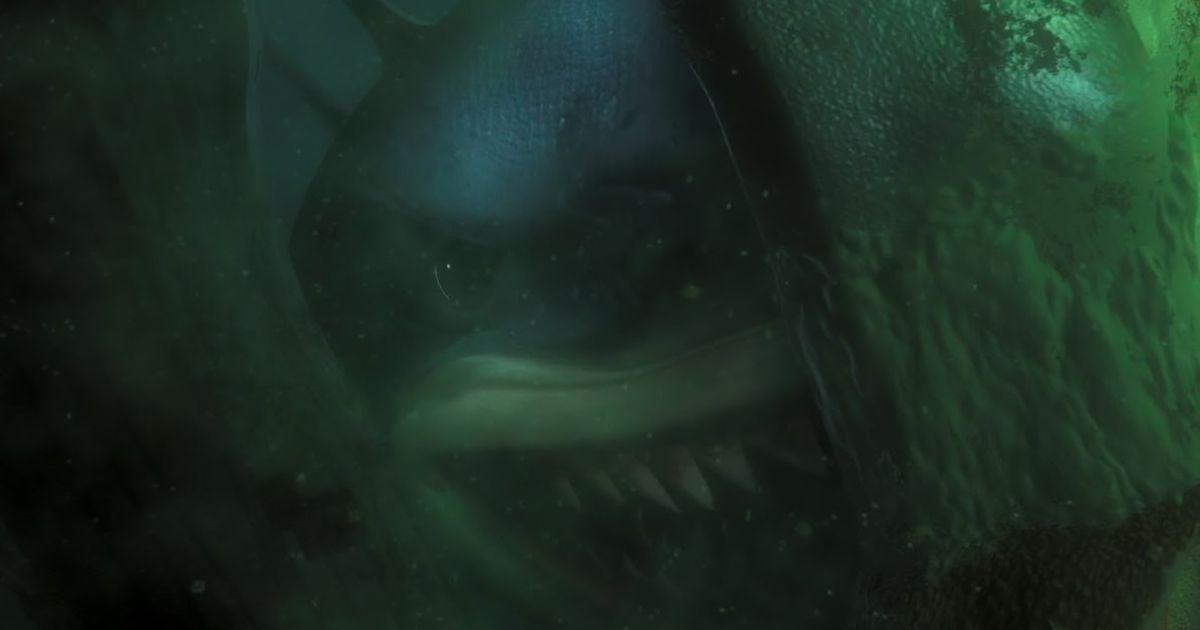 The third horror reference from Finding Nemo on this list, and the fourth reference from The Shining (we told you it was one of the most-referenced). Like the Samurai Jack scene listed about, when Bruce the Shark is chasing Marlin and Dory after becoming temporarily psychotic due to the smell of blood, he presses his face against a door with a hole in it, looks on at the two victims, and screams "Here's Bruce-y!" at them. Being that two selections on this list referenced the same scene, it's easy to see why The Shining is one of the most iconic horror movies of all time.
2
Toy Story (1995) – The Spinning Head from The Exorcist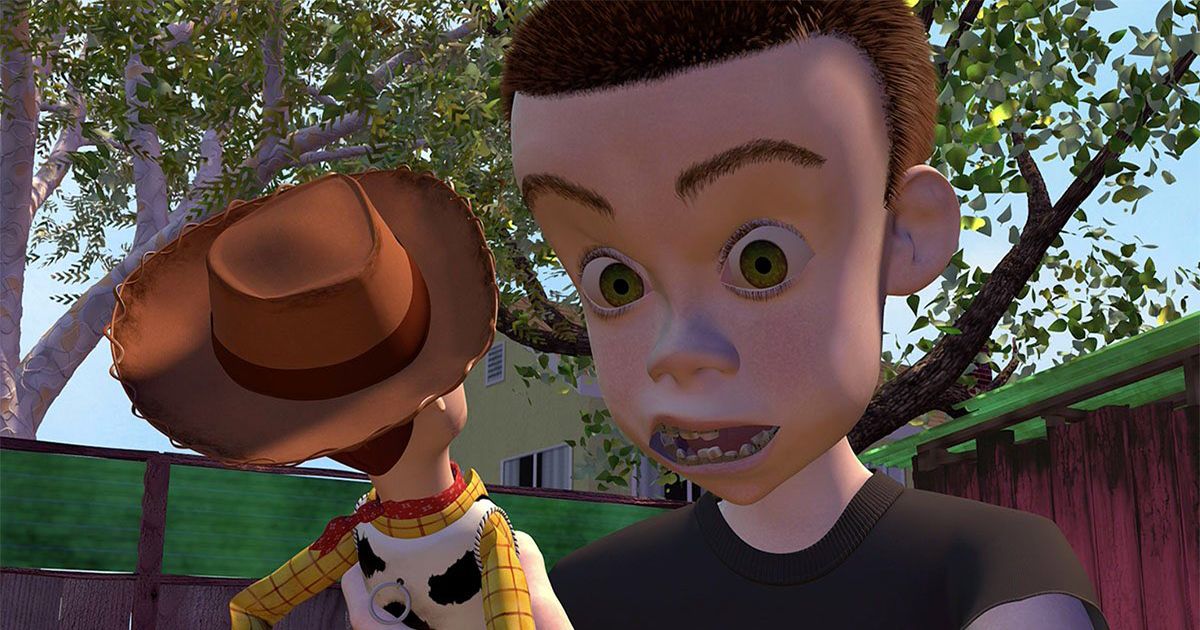 Surprisingly, with how iconic of a movie The Exorcist is, you would think it would be referenced more. Regardless, once of its most famous scenes is replicated in one of Toy Story's most famous scenes. After torturing and destroying toys on the regular, Woody hatches a plan to finally scare Sid enough that his toys will be safe. After Sid's toys ambush him, showing him that they're alive, Woody stares Sid directly in the eyes, and then rotates his head in a full 360-degree spin, much like the possessed Regan does in William Friedkin's 1974 film. Woody then says, "We'll find out, Sid. We toys can see everything. So play nice!"
1
Shrek 2 (2004) – Chestburster from Alien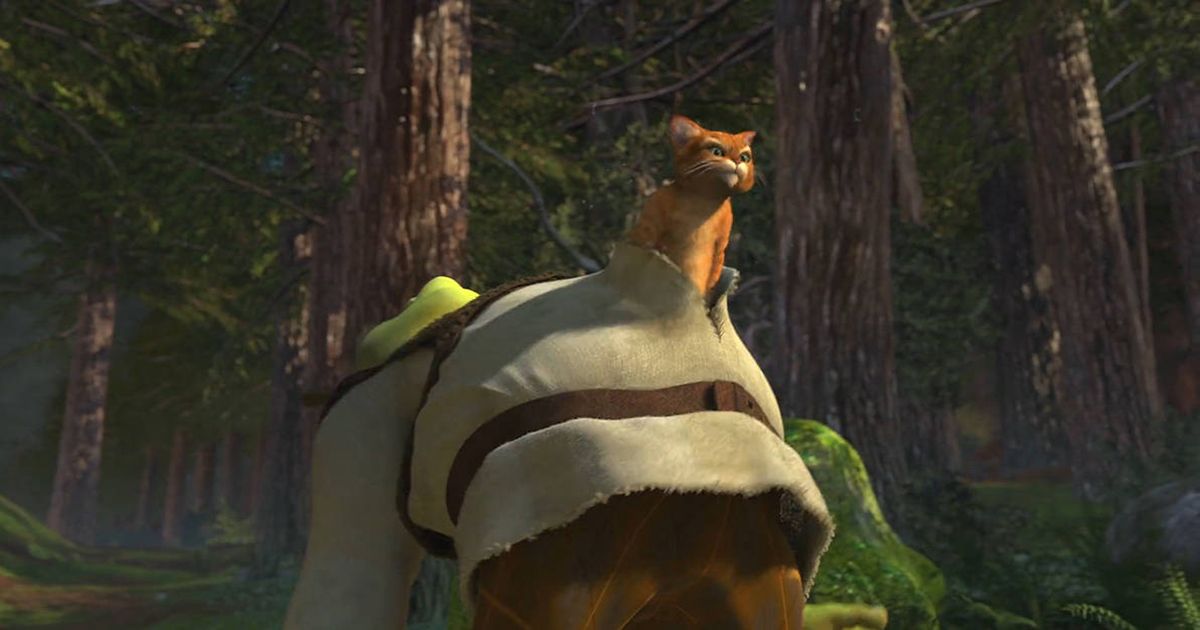 Before Puss in Boots got his own movie that became one of the best in the entire franchise, he was introduced to Shrek and company in Shrek 2. When the two meet, Puss in Boots attacks Shrek viciously, before popping out of his shirt in a reference to Ridley Scott's 1979 sci-fi horror film, Alien. Aside from the original scene being amazing due to its excellent effects, the scene is also iconic due to the cast not knowing that the effect would explode out of the character's chest like it did. Alien stands tall as the best horror science fiction film ever made, and has been referenced in countless movies and shows since its release.